News & Events
Environment & Science
Aamjiwnaang community members honoured for environmental contributions
August 31, 2022/By: Bluewater Association for Safety, Environment, and Sustainability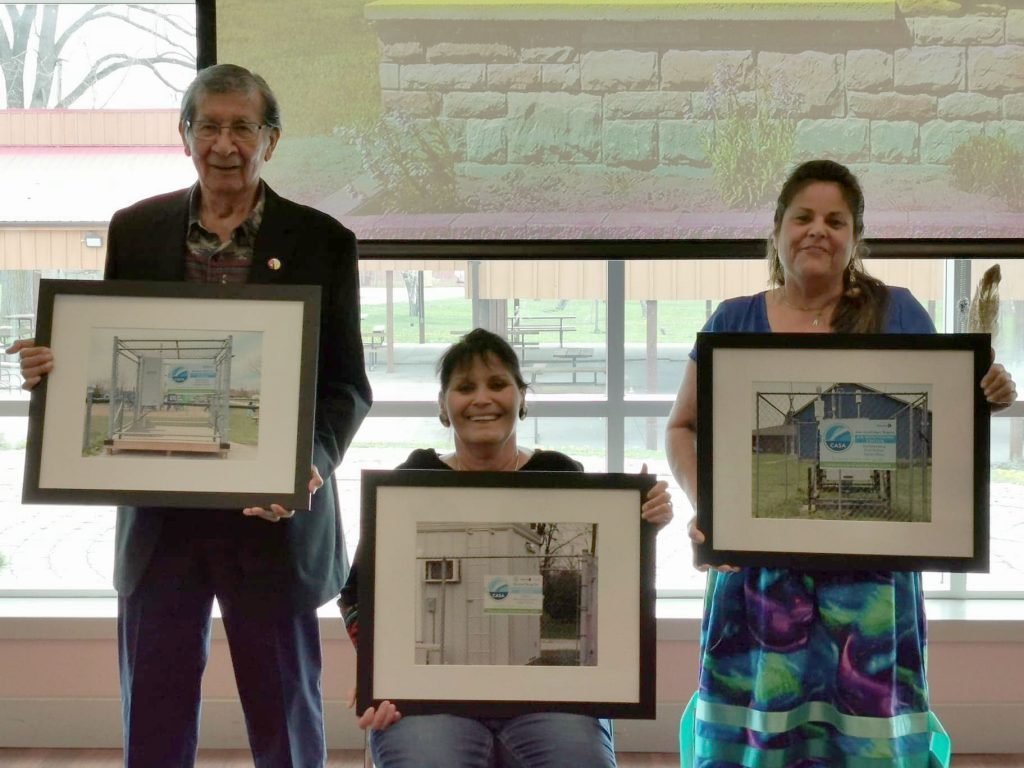 Pictured above: Wilson Plain Sr., Wanda Gray (on behalf of Errnol Gray Sr.), and Ada (Lockridge) Rogers are presented with photos of the air monitoring stations named in their honour. Photo by Courtney Jackson. 
The Sarnia-Lambton Environmental Association (SLEA), along with the Ministry of Environment, Conservation, and Parks, hosted a reception at the Aamjiwnaang Community Centre on May 6, 2022, to honour three Aamjiwnaang First Nations community members for their contributions to environmental protection, particularly relating to air quality in the region.  
Ada (Lockridge) Rogers, Errnol Gray Sr., and Wilson Plain Sr., were each honoured with a Clean Air Sarnia and Area (CASA) Air Monitoring Station dedication in their name. During the reception, members of the community gathered to reflect on the contributions of the three honourees, who have each spent countless hours advocating for environmental, clean air, and water protection for Aamjiwnaang First Nations and surrounding communities. Great change has been made over the years as a result of the efforts of these three inspiring community leaders, including numerous updates to policy and environmental legislation in Ontario. "My job is not done yet, and I hope more will follow," said honouree, Ada Lockridge. 
CASA provides near real-time data from Sarnia's air monitoring network, which consists of nine state-of-the art air monitoring stations. This data is posted to the CASA public website to provide the Sarnia-Lambton community with a better understanding of local ambient air quality and how it compares to provincial standards.
For more information about the amazing accomplishments of these Aamjiwnaang community leaders and the location of their dedicated Air Monitoring Stations, visit the CASA website https://www.cleanairsarniaandarea.com/reporting/station-dedications.aspx 
Newsletter Sign-Up
News and project updates delivered weekly to your inbox.