News & Events
Emergency Information
CAER completes regional refresh
November 19, 2021/By: Shaun Bisson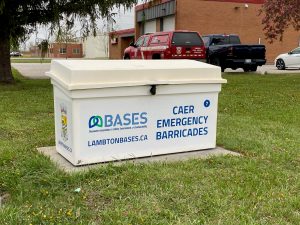 Sarnia-Lambton Community Awareness & Emergency Response (CAER) has completed a full refresh that streamlines governance and modernizes processes.
For the first time since inception in the 1950s, CAER is now legally incorporated as a non-profit. The previous brand 'CVECO' has been retired and replaced with a renewed focus on CAER.  This brand originated in Sarnia in the 1980s and has since grown to represent community collaboration in emergency preparedness worldwide.
CAER now formally exists alongside the Industrial Educational Corporation (IEC) and Sarnia-Lambton Environmental Association (SLEA) as one of three branches of the Bluewater Association for Safety, Environment and Sustainability (BASES).
On November 24, the CAER Board of Directors approved adoption of the new CAER Manual. The Board now operates under new by-laws, and all committees and project teams follow updated and consistent Terms of Reference. The Manual also establishes a consistent regional process for all member companies to follow for issuing notifications for both emergency and non-emergency events. These updates include introduction of new technology that automates the flow of information to custom and pre-configured audiences.
These changes represent a return to Sarnia-Lambton's place as an international leader in community engagement, awareness, and emergency response. For more information on CAER, please visit www.lambtonbases.ca.
Newsletter Sign-Up
News and project updates delivered weekly to your inbox.