News & Events
Workplace Health & Safety
IEC, Employment Transitions, and Express partner
December 11, 2020/By: Shaun Bisson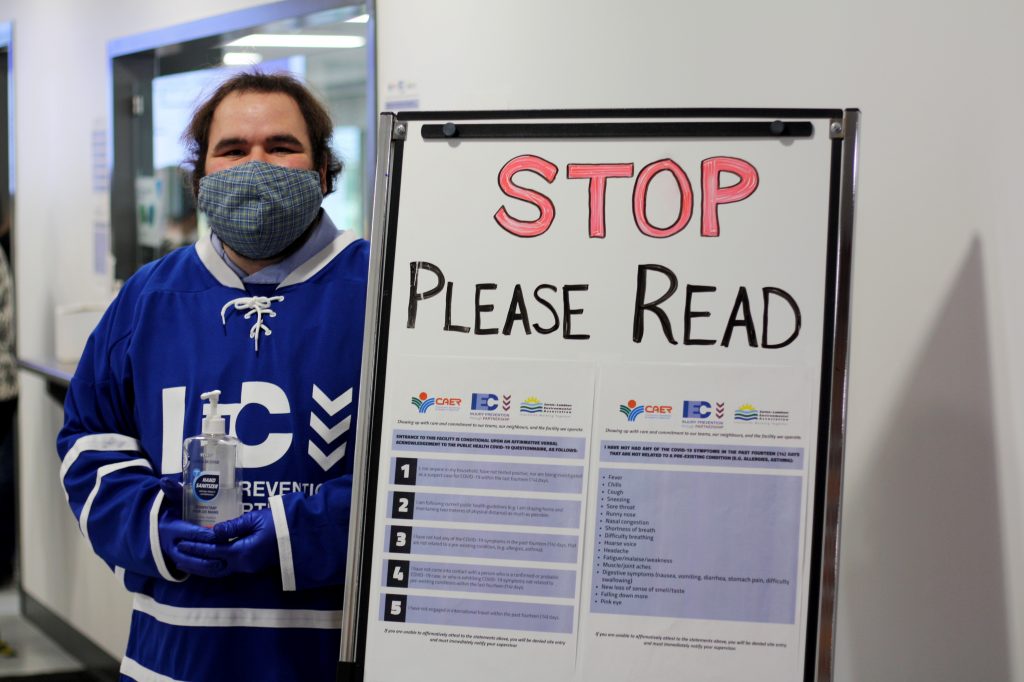 The Sarnia-Lambton Industrial Educational Cooperative (IEC) is pleased to announce the hiring of Johnie Kerr as our new COVID Control Specialist.
Created in partnership between the IEC, Employment Transitions, and Express Employment Professionals, this role helps to enhance infection control at the IEC while also offering an exciting opportunity for someone who faces personal barriers to employment in our community.
The IEC General Manager proposed this to leaders from our member sites, local contractors and building trades. The creation of this role received their endorsement and was formally tabled to the IEC Board of Directors who gave it unanimous approval. Throughout this process, companies shared positive experiences working with people who have different abilities and highlighted how all businesses need workers to fit jobs, but jobs also need to fit workers.
As part of his duties with the IEC, Kerr receives workers upon arrival at the IEC training facility where he reminds them all to review the IEC COVID screening questions, offers hand sanitizer, and thanks workers for wearing masks and maintaining physical distancing.
This is only the latest step of many implemented through the IEC Partnership who have met weekly from February to June to share, coordinate, and align on best practices for the management of COVID-19 across our region.  Since June, bi-weekly meetings have continued through the Sarnia Construction Association to stay on top of national, provincial and local trends and realize learnings together as one regional integrated team.
The success of this initiative by the IEC has created a template for Express Employment Professionals to work off of in partnership with other companies who are interested in enhancing their COVID protocols while also offering employment to qualified candidates in need of employment.
Newsletter Sign-Up
News and project updates delivered weekly to your inbox.