Emergency Preparedness
Community Awareness (CA)
ABOUT COMMUNITY AWARENESS
The members of Sarnia Lambton CAER actively build relationships with stakeholders as part of their commitment to social responsibility.  Connections are established and actively strengthened with neighbours, employees, contractors, etc. to ensure awareness of hazards and how associated risks are managed.
All legal requirements for public awareness associated with environmental emergencies are assessed and met by our member sites.  Our companies work both individually and collectively with municipal leaders on regional campaigns to promote emergency preparedness across our communities.  Industrial response teams conduct routine exercises to ensure notification and communication processes provide timely and accurate updates to internal responders, mutual aid teams, and municipal officials.  This optimizes the site response and gives municipal officials the information they need to direct members of the public to take action, if required, during an emergency.
EMERGENCY PREPAREDNESS
Shelter In Place/Evacuation
When an incident occurs where it is deemed safest for the public to stay and remain inside, site emergency officials will provide immediate updates to municipal response teams. If necessary, unified command will be established and the teams will work together to assess and manage the response. Examples of regional response actions could include traffic control, shelter-in-place, or evacuation. The responsibility for issuing shelter-in-place and evacuation advisories lies with the municipality.
Watch this short video to learn more about shelter-in-place and Sarnia-Lambton's emergency sirens.
Examples of Shelter-in-Place Scenarios:
Natural Disaster (tornado, flooding, etc.)
Chemical, Biological, or Nuclear Release (uncontrolled contamination into the atmosphere)
Security Threat (active shooter, act of terrorism, etc.)
If you are advised by municipal officials to shelter-in-place, please stay inside for your own protection. Most buildings will seal well enough to hold enough air supply for several hours – often long enough for potential vapours in the air to dissipate.
Steps to Take When Sheltering-In-Place – SHELTER, SHUT & STAY TUNED!
SHELTER
Bring all people and pets inside and stay inside until all clear is given.
For a chemical release – go to an interior room that's above ground level (if possible, one without windows). In a chemical release, an above-ground location is preferable because some chemicals are heavier than air and may seep into basements even if the windows are closed.
Get your emergency supplies kit, make sure the radio is working, and keep it on to obtain information and instructions.
SHUT
Close and lock all windows and exterior doors – locking doors and windows provides a better seal.
Turn off heating and air-conditioning systems that draw air from the outside (keep the outside air out, and the inside air in).
Use duct or other wide tape to seal cracks around doors and any vents into the room (using plastic sheeting may create an even better seal)
Close fireplace dampers, if applicable.
STAY TUNED
Sign up for Sarnia-Lambton Alerts to receive important community notifications.
Call the Community Hotline 226-778-4611 for recorded messages.
Connect with your local municipality for further instructions. Local officials might call for the evacuation of specific areas in your community that are at greatest risk. Responders or municipal officials will let you know when it is safe to go outside.
Listen to instructions given over the radio – CHOK 1070 AM / 103.9 FM / 106.3 FM / 99.9 FM.
Continue to stay tuned until you are told all is safe, or you are advised to evacuate.
Click HERE for a Shelter-in-Place planning toolkit.
Evacuation
If local authorities advise you to leave your home due to a chemical emergency, it means there is a potential or existing threat to your safety, please take their advice immediately. An evacuation is often initiated when it is more dangerous to stay in place, than it is to leave. The threat could be a fire or a potential explosion. Listen to your radio and follow the instructions of local emergency or municipal officials, keeping these simple tips in mind:
Wear long-sleeved shirts, long pants and sturdy shoes so you can be protected as much as possible.
Take your emergency supplies kit.
Take your pets with you – do not leave them behind (Most evacuation centres will try to accommodate pets, but it is best to make plans ahead of time and find other lodging for them).
Lock your home.
Collect family members or go to the place designated in your family plan as a meeting place.
Use travel routes specified by local authorities. Don't use shortcuts – certain areas may be impassable or dangerous.
Stay away from downed power lines.
If you go to an evacuation centre, sign up at the registration desk so you can be contacted or reunited with family and friends who will be looking for you.
Contact your out-of-area emergency contact to let them know what has happened, that you are okay, and how to contact you.
Sign up to receive Sarnia-Lambton Alerts on your mobile devices.
Call the Community Hotline 226-778-4611 for recorded messages.
Listen to your radio (CHOK 1070 AM / 103.9 FM / 106.3 FM / 99.9 FM) for more information about your area. Remaining on one station is the best way to monitor for information.
Leave natural gas service 'on' unless local officials advise you otherwise. You might need gas for heating and cooking when you return, and you will need to contact your utility company to reconnect appliances or restore gas service in your home once it's been turned off. In a disaster situation, it could take weeks for someone to respond to turn your gas back on.
If instructed to so do, shut off water and electricity before leaving.
For more information on how to prepare and be ready to act in the event of an emergency, visit the County of Lambton's Emergency Preparedness website by clicking HERE.
Community Emergency Sirens
Sarnia-Lambton has 15 community notification sirens located across Sarnia, Point Edward, Aamjiwnaang First Nation, and Corunna that are used to alert the public about hazardous situations. The solar-powered sirens sit atop 50-foot towers with a sound range of approximately 1.5 kilometres, and many are located near public spaces such parks and schools.
These sirens are tested every Monday at 12:30pm for 30 seconds. In the event of an actual emergency, the sirens will sound with a sharper tone for 9 minutes at their full volume of 123 decibels.
If you hear the sirens, emergency officials recommend that you go inside and await further instruction from your local municipality through Sarnia-Lambton Alerts, municipal social channels, and local media. 
Listen to hear testing siren audio:
Listen to hear emergency siren audio:
Sarnia-Lambton Alerts
BASES' Industrial Members have partnered with local municipalities to offer the Sarnia-Lambton Alerts (formerly MyCNN) notification system which allows community members to subscribe to receive important community updates in a timely manner, right to the palm of their hand. Sarnia-Lambton Alerts uses the Everbridge emergency notification system to alert the community about a variety of events, such as:
Traffic information

Extreme temperatures​

Lambton Public Health notices​

Police information​

Industrial notifications

Drinking water emergencies​

Evacuation notices​

Missing persons​

Shelter-in-place ​

Tornado alerts
Subscribers can customize their communication preferences by selecting which notices they want to receive and how they want to receive them. Notifications are sent to subscribers via their preferred communication method to ensure real-time access to potentially lifesaving information.
Non-emergency notifications can be sent by email and/or the Everbridge app

Emergency notifications can be sent by phone, text message, email and/or the Everbridge app
Instructions on how to register can be found in the infographic below. To register for Sarnia-Lambton Alerts, click HERE.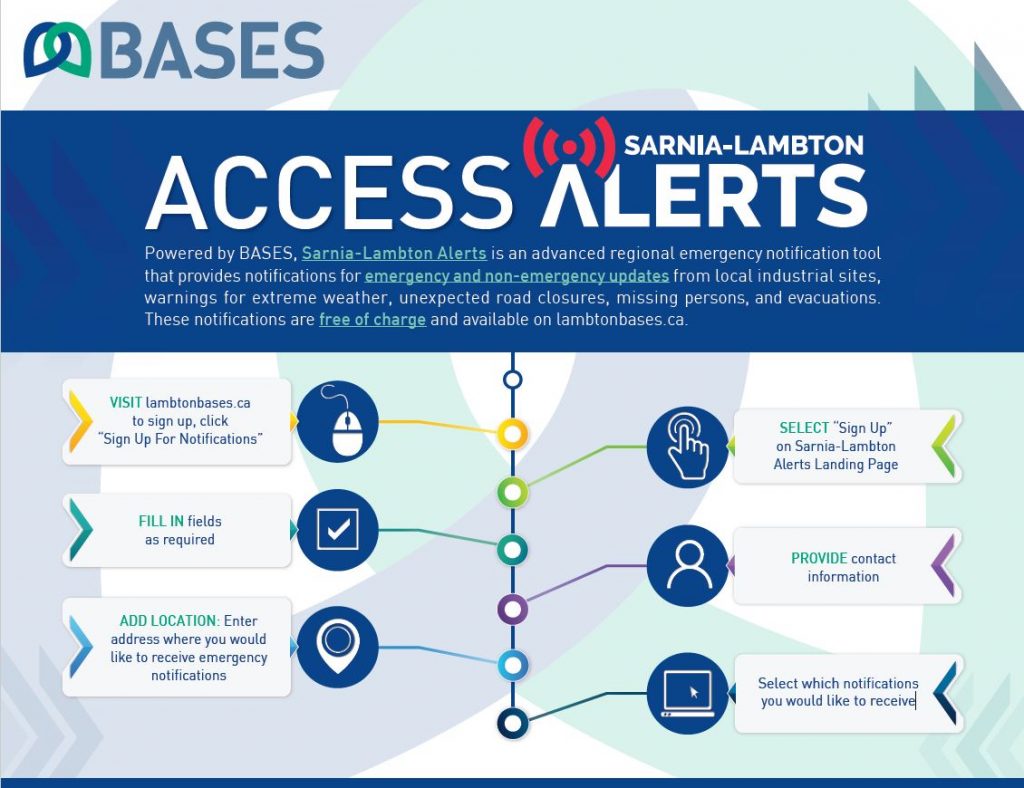 Download the Everbridge App to Get Sarnia-Lambton Alerts notifications directly to your hand-held device.
During an Emergency
During an emergency, it may be helpful to keep the following items in mind:
Subscribe to Sarnia-Lambton Alerts to receive important community notifications.
Call the Community Hotline 226-778-4611 for recorded messages.
Tune to a local radio station and listen for information and instructions from emergency officials. Do as emergency officials advise and stay away from the disaster scene. Be prepared to relocate if advised to do so and follow all instructions carefully. The primary local radio stations serving Lambton County are: 1070 AM CHOK, 103.9 FM CHOK, 99.9 FOX FM, 106.3 COOL FM.
Visit a news media or municipal website, or follow their official social media feeds, for information and instructions.
Do not call 9-1-1 looking for information about an emergency. Only call 9-1-1 to report an emergency or if you or someone else needs police, fire, or medical assistance. If you are looking for information following or during a major emergency, 211 Ontario will be activated by County or municipal officials to handle information calls from residents. Simply dial 2-1-1 to connect to a call-taker.
Do not use your telephone (either land-line or cellular) unless it is absolutely necessary (i.e. you are calling for assistance or checking on the welfare of someone who might be in trouble). Telephone usage often soars during disasters, but telephone systems are not designed to allow every customer to use their phones at once. If telephone networks are overwhelmed, people in need of assistance might not be able to reach 9-1-1, and emergency responders might not be able to communicate with one another.
Keep your 72 Hour Emergency Supplies Kit handy when you have to take shelter (i.e. during a Tornado Warning).
72 Hour Supply Kit
One of the best ways you can prepare for emergencies is to have enough supplies at home to feed and care for you and your family for at least three days following a crisis or disaster. This is called a 72 Hour Emergency Supplies Kit.
If it is safe to remain at home, people and pets will often be more comfortable and less stressed staying at home, versus relocating to an emergency shelter. Also, when residents who have been minimally impacted by a disaster can look after themselves, it allows emergency responders and municipal officials to focus on people who have perhaps suffered significant loss.
Your 72-Hour Emergency Supplies Kit should include the following items:
"special needs" items for any member of your household (i.e. baby formula, diapers, prescription medication etc.)
first-aid supplies (bandages, adhesive tape, antibiotic ointment, antiseptic towelettes, cleansing agent or soap, cold pack, eyewash solution, cotton swabs, disposable gloves, gauze pads, hydrogen peroxide, lip balm etc.)
a change of clothing for each household member (footwear as well)
candles and matches or lighter
a sleeping bag or bedroll for each household member (in case you have to evacuate)
flashlight and batteries
battery-powered radio and extra batteries
duct tape
non-perishable food (this should be replaced every year)
bottled water
whistle (in case you need to attract someone's attention)
playing cards or games
toilet paper and other personal care supplies
extra car and house keys
extra cash (change too – for vending machines etc.) and copies of important family documents (birth certificates, passports and licenses). Copies of essential documents should also be kept in a safe location outside your home – in a safe deposit box or the home of a friend or family member who lives out of town is a good idea.
Consider preparing an emergency kit for each of your vehicles as well. If you ever become stranded in a remote area or snowstorm, having some essential supplies may help keep you and your passengers safe.
COMMUNITY ENGAGEMENT
Regional Priorities and Strategies 
In 2018, Sarnia-Lambton CAER members held community workshops to receive feedback on organizational effectiveness and formulate a community engagement plan moving forward. These community workshops helped to enhance relationships and build trust with key stakeholders. It also allowed the organizations to effectively respond to improvement suggestions tabled by the National Advisory Panel, Chemistry Industry Association of Canada, and Canadian Fuels Association, and demonstrate a commitment to stakeholder engagement. Following these workshops, CAER members identified five key focus areas for continuous improvement:
Emergency Planning and Preparedness

Incident/Operational Change Communications

CAER and SLEA Organizational Effectiveness
Community Advisory Panel Effectiveness
First Nations Engagement
E2 Regulations 
CAER has facilitated sessions to enhance regulatory clarity and to create alignment across the region on site and regional efforts to ensure compliance with the Environmental Emergency Regulations, 2019 under the Canadian Environmental Protection Act, 1999. E2 prescribes specific regulatory submissions, development of an environmental emergency plan, and annual testing. Members of the public who could be affected by an environmental emergency need to be made aware of this risk before, during and after an emergency. Facilities must inform the public about possible risks and impacts, as well as the actions the facility will take to reduce these effects on the environment and human health.
Regional Contributions
In early 2020, Sarnia-Lambton CAER, in conjunction with the IEC and SLEA, extended its reach and influence across the region to help ensure that the risks associated with COVID-19 were understood and best practices and learnings were shared as part of a regional commitment to continuous improvement.
Before Ontario was under a State of Emergency, member companies, contractors, and building trades began to share insights and best practices to prepare for the escalation of the pandemic. Through the regional partnership, an effort was made to formally connect with Lambton Public Health. The IEC 7-7-7 Committee began to meet weekly to share learnings from our worksites as the pandemic evolved and new controls were developed and implemented. This model of collaboration continued throughout the year under the leadership of the Sarnia Construction Association.
In response to the pandemic, CAER, the IEC, and SLEA helped facilitate significant donations of personal protective equipment (PPE) and sanitizing products to Bluewater Health from stakeholder and member companies, while a number of member companies also made contributions directly to the Hospital.
The three associations combined to make a $40,000 donation to the City of Sarnia  to help set up the Field Hospital at Lambton College in the event of an influx of COVID-19 patients in the region. CAER, the IEC, and SLEA made the MyCNN technology available to area municipal officials, enabling the rapid sharing of information to the public in response to the pandemic. As vaccine distribution became key to pandemic response, once again, CAER, IEC, and SLEA made a joint $60,000 donation to Lambton Public Health to help enable the set up of a mass vaccination clinic using the provincial Hockey Hub model.
Signage
CAER member companies and stakeholders maintain traffic control boxes throughout the Sarnia-Lambton area that aid in response to emergency situations. These boxes, as well as air monitoring stations located throughout the region, includes signage that indicates how area residents can receive information on emergencies.
Promotional Events
CAER leads the coordination of Emergency Preparedness Day as an annual regional event. EP Day showcases the response capabilities, emergency management procedures, and preventative measures of Lambton County municipalities, first responders, industrial sites, and emergency management companies.
EP Day is the region's single largest community event dedicated to emergency awareness and education. Traditionally held at Clearwater Arena in Sarnia, EP Day brings together elementary school aged students from both the Lambton Kent District School Board and St. Clair Catholic District School Board as well as community emergency management stakeholders in an engaging and educational day of demonstrations, interactive displays, and conversations that underline the importance of being prepared for a wide variety of emergency situations.
In response to the COVID-19 Pandemic, the BASES leaders identified that the EP Day event could not be held safely. The members of CAER connected with local leaders and stakeholders to develop engaging resources for use in the classroom. This exercise then expanded to include environmental programming from the St. Clair Regional Conservation Authority, safety programming from the Industrial Educational Co-Operative, and emergency preparedness messaging from CAER. The resulting project team is now developing an annual cycle of program development and deployment with a broader objective of regional sustainability.
Educational Partnerships
CAER and its member companies work closely with the Lambton Kent District School Board and St. Clair Catholic School Board to coordinate a range of activities and educational opportunities, including EP Day. This collaboration allows for CAER members to share important information with students and teachers both in the classroom and through important initiatives like Partners Active in Resource Sharing (PAIRS).
Website Resources
Local Government Website Resources 
Get access to local government resources related to emergency preparedness:
Industry Website Resources 
Use these resources to access local industry resources related to emergency preparedness:
Site Familiarization
Public Meetings 
CAER member companies actively engage with their immediate neighbours through regular sharing of correspondence, electronic postings or even face to face meetings as appropriate. CAER member sites may extend these efforts to the broader Sarnia-Lambton community through website postings, radio advertisements, community newsletters, and more. In some cases, town halls are arranged to provide open access to company officials where residents can directly engage with industry officials. All efforts to share information increases understanding, familiarity, control, and trust – and aligns with the Accountability element of Responsible Care®.   
Public Official Visits 
CAER member companies collaborate with local governments on a variety of topics and in several ways. Occasionally, this will involve hosting local government officials on site to review facility operations, response plans, and best practices in an effort to ensure expectations are clear and all roles and responsibilities are understood. Meetings between corporate and public officials provides an opportunity to align on strategic corporate priorities and governmental policy.
Emergency Responders 
CAER committees facilitate an open exchange of information between company and municipal response professionals. Where appropriate, companies will invite municipal response teams to visit their site and discuss specific response scenarios. The reviews may include:
Special precautions associated with operations, maintenance, or capital projects

Emergency response team mobilization, communication and SIMOPS

Process safety information including sensors (flame, heat, vibration, LEL, etc.), emergency shutdown systems, blast zones, shelters, deluge, use of fireproofing, etc.

Site mustering and evacuation protocols 

Existing audio/visual alarm systems

Specialized response equipment and/or specific response procedures required that ensure the safety of response teams