Environment & Science
St. Clair River Area of Concern
AOC Designation Background
The St. Clair River was identified as an Area of Concern (AOC) in 1987 as a result of an international agreement between the United States and Canada. AOCs are sites where beneficial use impairments (BUIs) exist and common uses of the river are not possible. The St. Clair River was listed as a binational AOC, largely because of the extensive industrial and urban development along its shoreline and the historical release of harmful chemicals and bacteria from chemical plants, refineries, wastewater treatment plants, storm water and agricultural runoff.
Regional Watershed Management
For over 30 years, US and Canadian government agencies, municipalities, industries, First Nations, and community groups developed and implemented a Remedial Action Plan (RAP) to rehabilitate the St. Clair River. According to the Stage 1 Remedial Action Plan (RAP), the reasons for the Loss of Fish and Wildlife Habitat beneficial use impairment (BUI) in the St. Clair River were general loss of the aquatic plant community due to industrial, agricultural, recreational, and urban developments. There was also significant impact to natural resources including shoreline, tributary, nearshore, wetland, and river habitat due to filling, draining, dredging, and bulkheading for industrial, urban, agricultural, and navigational uses.  
Regional Process
Today, spills are at zero or near zero levels from the industry into the St. Clair River. Data from SLEA shows that spills from member companies requiring emergency downriver response dropped to zero in 2014 — down from more than 110 in 1987. In recent years, thousands of samples have detected low levels (i.e. below requiring action) of measured compounds. The compounds detected tend to spike on weekends when more pleasure boats are on the water, which use water in engine cooling systems and churn up sediment-containing compounds. 
Thanks to long-running efforts of many, including SLEA members, all BUIs for the St. Clair River have either been re-designated or have significantly progressed toward re-designation. The regional bi-national team continues to work toward achieving delisting as restoration actions are taken and environmental assessments confirm that objectives are achieved. As environmental recovery is realized in the coming years, and all BUIs are restored, the St. Clair River will become delisted as an AOC.  
AOC Updates
Remedial activities completed since the late 1980s have significantly improved the ecological health of the St. Clair River. This is evident in the 47 priority actions identified in the 2017-2022 Work Plan, down from the 71 actions identified in the 2012-2017 work plan. Much of the work done to improve the ecological health of the St. Clair River is outlined in this new educational video produced by the St. Clair Region Conservation Authority.
In 2017, six of the St. Clair River AOC's beneficial use impairments were labeled as Impaired, with three labeled as Requires Further Assessment.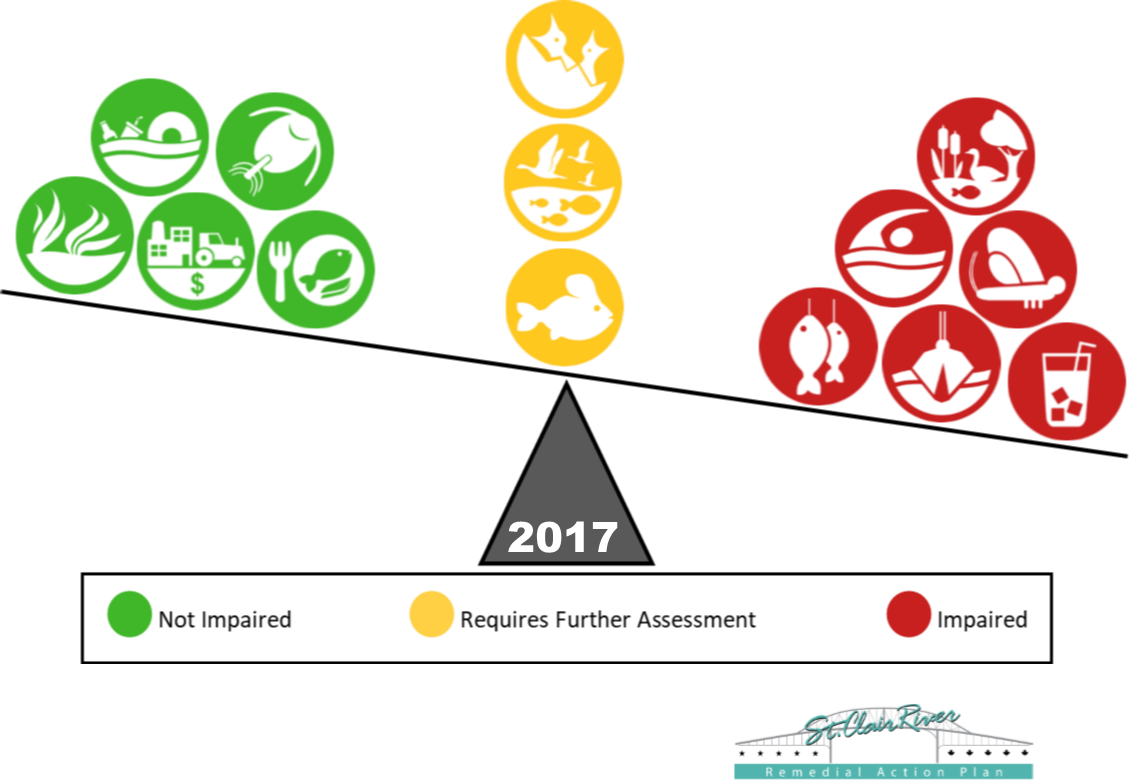 As of 2020, Impaired designations were down to four, with only two BUIs listed as Requires Further Assessment.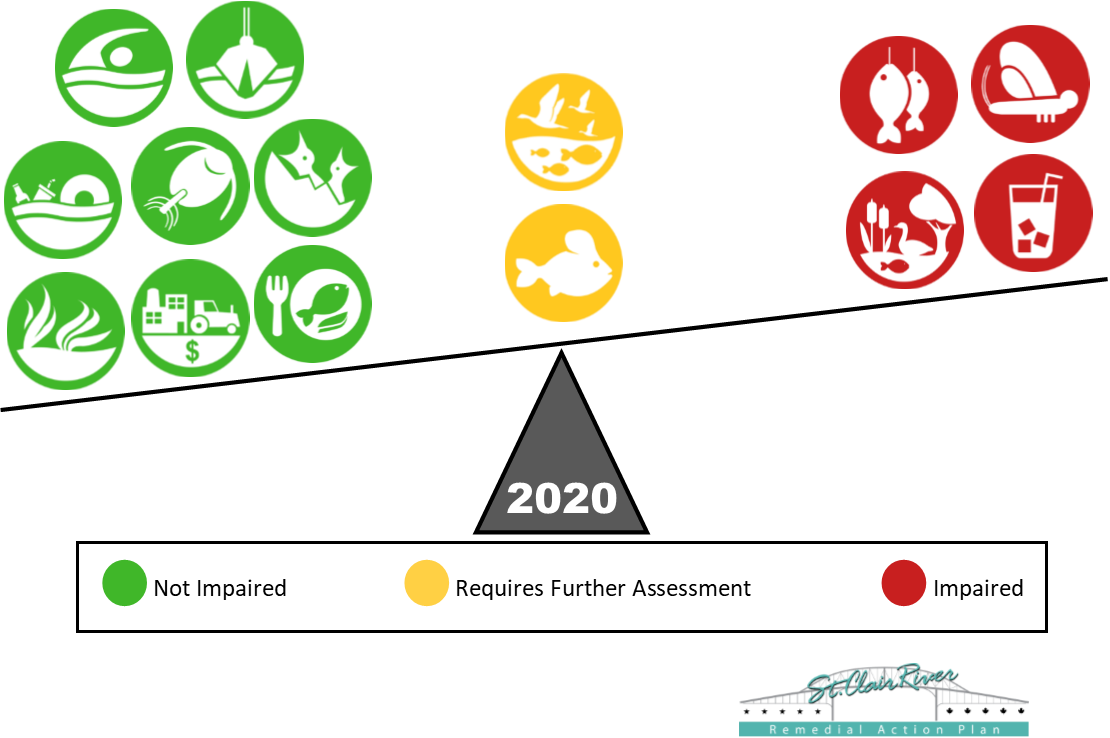 In 2021, BUI-4, Fish Tumours or other Deformities was re-designated as Not Impaired, having previously been designated as Requires Further Assessment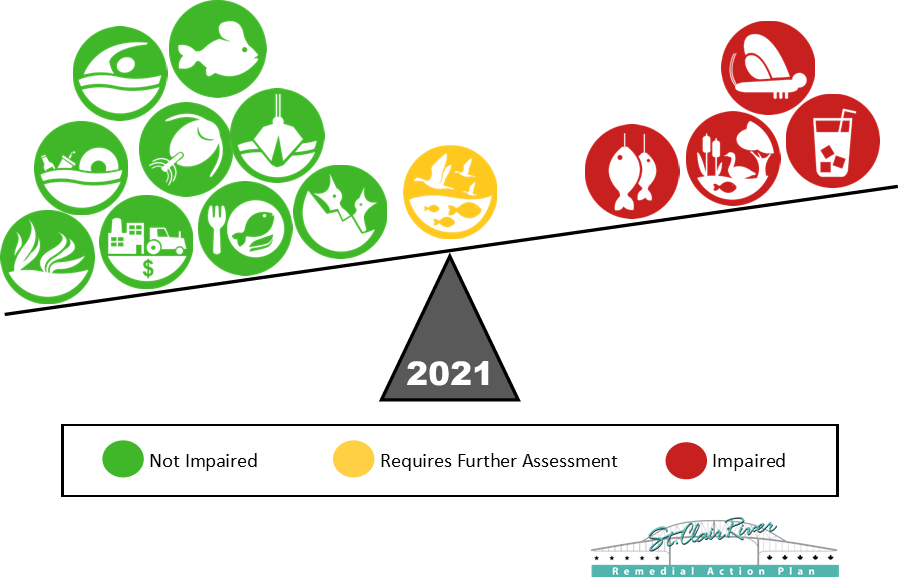 For more information on the status of all 14 of the St. Clair River AOC Beneficial Use Impairments and the ongoing work to delist the St. Clair River, please visit the Friends of the St. Clair website by clicking here.