News & Events
Workplace Health & Safety
Construction continues on Origin Materials' first production plant, Origin 1
August 31, 2022/By: Bluewater Association for Safety, Environment, and Sustainability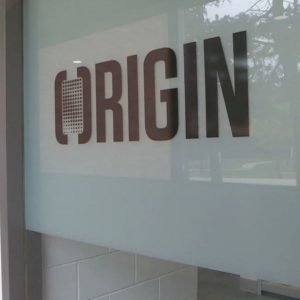 Origin Materials, a California-based carbon negative materials company, is on target to have their first plant, located in Arlanxeo's bio-industrial park in Sarnia, completed by the end of this year.   
Origin Materials is bringing their vision of sustainability to life with a focus on reducing climate impact and helping other companies achieve their decarbonization goals by providing them with carbon negative alternatives. Co-founders John Bissell and Ryan Smith, both Chemical Engineers by trade, spent over 10 years developing their technology to use plant-based feedstocks, such as wood residues and cardboard, to create a wide variety of sustainable materials, including clothing, textiles, plastics, packaging, carpets, car parts, tires, toys, and more. These materials are cost-competitive with similar products produced from petroleum, and are carbon negative, meaning more carbon emissions are removed from the atmosphere from product production than are emitted.   
Sarnia was selected as the location of Origin's first production plant in part because of the partnership opportunities with adjacent petrochemical and biochemical industries in the area, as well as an investment from Sarnia based Bioindustrial Innovation Canada and opportunities to create a pilot plant at the Western Sarnia-Lambton Research Park.   
While construction on the plant continues, Origin has been busy making a name for themselves in the Sarnia-Lambton area by getting involved in a number of community initiatives and sponsoring local events. Most recently, Origin was the title sponsor of August's First Friday and Weekend Walkabout that saw the return of ArtCrawl to the downtown core and drew in nearly 2000 people and over 60 vendors.   
Having Origin join the Sarnia-Lambton industrial community is a great step-forward in putting Sarnia on the map to showcase the area's ability to adapt to emerging technologies, while providing a strong workforce to emerging companies.  
For more information on Origin Materials' vision of sustainability, and the progress on the local Origin 1 plant, visit their website at: https://www.originmaterials.com/ 
Newsletter Sign-Up
News and project updates delivered weekly to your inbox.