News & Events
Workplace Health & Safety
IEC prepared for turnaround rush
March 25, 2022/By: Bluewater Association for Safety, Environment, and Sustainability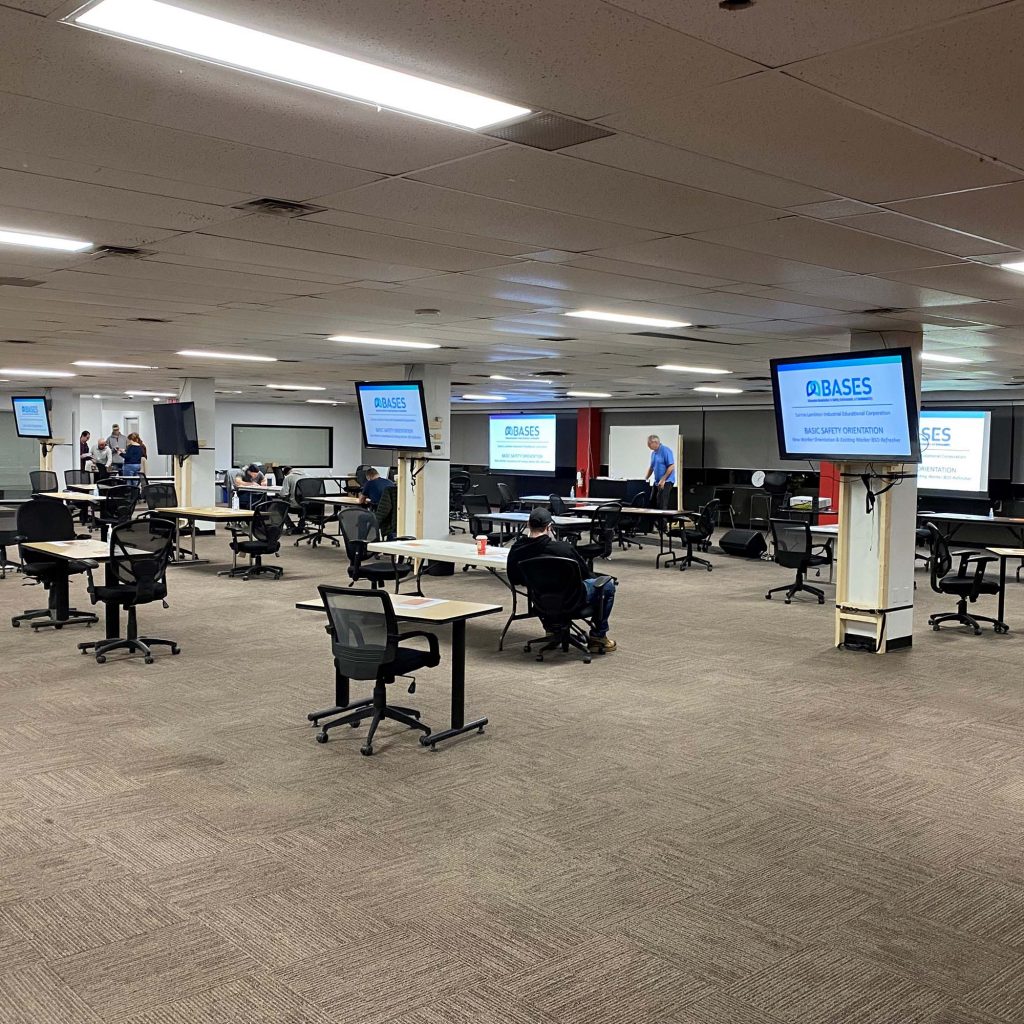 In preparation for several major turnarounds and outages at member sites in 2022, the Sarnia-Lambton Industrial Educational Corporation (IEC) undertook new initiatives geared towards increasing their training capacity in the first half of 2022 to best service the needs of its members.
Beginning in Q4 of 2021, the IEC increased both the number and size of its classrooms at the Western Sarnia-Lambton Research Park, allowing for more students to take classes while still safely maintaining social distance from others to help prevent the potential spread of airborne illnesses. To achieve this, the IEC rented a large hall on the upper floors of the Research Park that can hold up to 50 workers at once. Additionally, the IEC removed a wall separating classrooms 1 and 2 in their primary training space, allowing it to also hold up to 25 students while keeping COVID controls in mind.
The IEC developed a new registration app in 2020 and then assembled several teams of safety leaders from our sites, contractors, and trades to update and transition our IEC courses to a blended (online and classroom) format.  The blended format increases flexibility for theory to be learned online followed by valuable practical exchanges in the classroom.  New blended courses that rolled out in 2021 include:  Respiratory Fit Testing, Forklift / Overhead Crane / TDG, and our flagship Basic Safety Orientation course.  Several member sites also leveraged the new IEC registration app functionality to offer site-specific orientations through an online format. The IEC also worked to identify additional Ontario Ministry approved vendors to provide us with support, as needed for Working at Heights training.
These adjustments have enabled the IEC to provide world-class safety training to nearly 6000 workers since the beginning of 2022, with more expected to take courses over the coming months.
Newsletter Sign-Up
News and project updates delivered weekly to your inbox.