News & Events
Workplace Health & Safety
Shell Manufacturing Centre, Corunna welcomes new General Manager
November 10, 2022/By: Bluewater Association for Safety, Environment, and Sustainability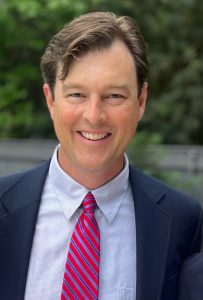 The Shell Manufacturing Centre (SMC) in Corunna welcomed a new General Manager, Kevin McMahon, on August 19, 2022. Kevin brings with him over 20 years of experience working for Shell, and has held various leadership and operational positions in engineering, pipeline, and upstream sectors throughout areas of Louisiana and Texas, as well as the Deepwater project in the Gulf of Mexico.  
McMahon, along with his wife and two children, were up for a new adventure with the relocation from Texas to Canada and are looking forward to their first experience of a Southwestern Ontario fall and winter.  
"I have a lot of excitement for the history and strength of the SMC site after 70 years of operation and the awesome staff who have deep skills, a strong sense of ownership, and pride in the community," said McMahon. The new GM continued that he feels the SMC site is in a great geographical location to service its customers in Southwestern Ontario and shared that his vision for the local refinery is to have a safe, reliable, and profitable business that acts as a good steward, good neighbour, and continues to help and support the community.  
The Shell Manufacturing Centre is located on the St. Clair Parkway in Corunna, employs approximately 350 full-time employees, and can process up to 85,000 barrels of crude oil daily. The crude oil produced at the local refinery is then converted and refined to help meet the needs of southern Ontario's transportation industry through the supply of gasoline, diesel, and jet fuel. The Shell Chemical plant adjacent to the refinery, is a key North American producer of Isopropyl Alcohol, which is a key ingredient used in sanitizers, disinfectants, and other medical uses. Shell is a proud community partner and supports a number of local community groups and causes through their Fueling Kindness Program, including Habitat for Humanity, United Way, Lambton College, and Bluewater Health.  
Newsletter Sign-Up
News and project updates delivered weekly to your inbox.