News & Events
Emergency Information
Sign up for important community notification alerts
November 10, 2022/By: Bluewater Association for Safety, Environment, and Sustainability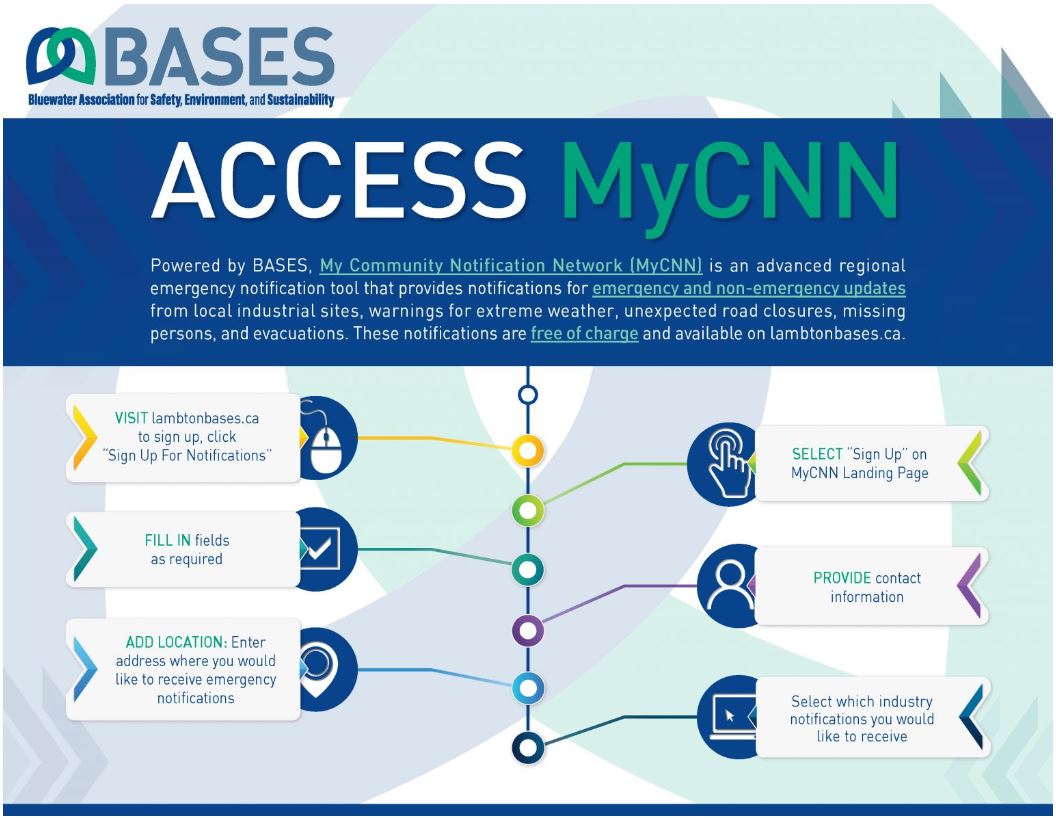 The Sarnia-Lambton Community Awareness Emergency Response (CAER) organization addresses the unique safety challenges arising in the Sarnia area given the proximity to industry. CAER is a valued community partner providing essential information that can be used to help prepare local residents in the event of an emergency, including relevant instructions to help keep residents and their loved ones safe.  
One of the tools used to strengthen connections between municipalities, industry, and the community is My Community Notification Network (MyCNN). Powered by CAER, and partnered with the City of Sarnia, MyCNN is an advanced regional emergency notification tool that allows the timely communication of information including warnings for extreme weather, unexpected road closures, missing persons, and evacuations. MyCNN also includes emergency and non-emergency updates from local industrial sites. MyCNN is offered free of charge and allows subscribers to customize which types of notifications they would like to receive and indicate how they would like to receive them based on the type of alert. 
Non-emergency notifications can be received through the Everbridge mobile app on any smartphone or mobile device, as well as through email notifications.  
Non-Emergency Alerts include: 
Extreme temperatures

Flooding

Municipal safety instructions

Municipal service disruptions

Police information

Non-emergency industry updates

Traffic information-closures

 
Emergency notifications can also be sent out via SMS messaging and phone calls, in addition to notifications through the Everbridge app and via email.  
Emergency Mandatory Alerts include: 
Shelter-in-place notifications

Evacuation notifications

Tornado Alert: Action Required

Drinking water emergencies

Lambton Public Health Notices

 

Emergency industry updates
The health and well-being of area residents is of the utmost importance. By downloading the Everbridge app and subscribing to MyCNN notifications, subscribers can receive important community news in the palm of their hand when needed most.  
Download the Everbridge app below and click here to sign up for MyCNN notifications – https://member.everbridge.net/892807736721815/login
Newsletter Sign-Up
News and project updates delivered weekly to your inbox.